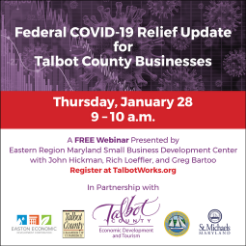 Join the Talbot County Department of Economic Development and Tourism for a free webinar on financial resources available to Talbot County small businesses.
Small Business COVID-19 Relief Update
Thursday, January 28, 9 a.m.
Featuring:
John Hickman, Rich Loeffler and Greg Bartoo from the Small Business Development Center.
Moderated by:
Cassandra Vanhooser, Director of Economic Development and Tourism, Talbot County
Presented in partnership with the Talbot County Chamber of Commerce, Easton Economic Development Corporation, St. Michaels Business Association, and the Oxford Business Association.