Choosing Talbot County: Fast Facts at a Glance
(Updated Oct. 18, 2023)
---
Demographics
Talbot County is small, but influential.
Talbot County has our own unique story to tell. Get to know who ignites Talbot County's economy.
Population: 37,020
Bachelor's Degree or More: 43%
Average Family Size / Household: 2.18
Total Number of Civilian Businesses: 2,508
Projected Unemployment Rate: 3.1%
White Collar Jobs: 73%
Information from the Delmarva Index.
Download Talbot County's full demographic profile by clicking the image below or the following link: Delmarva Index – Talbot County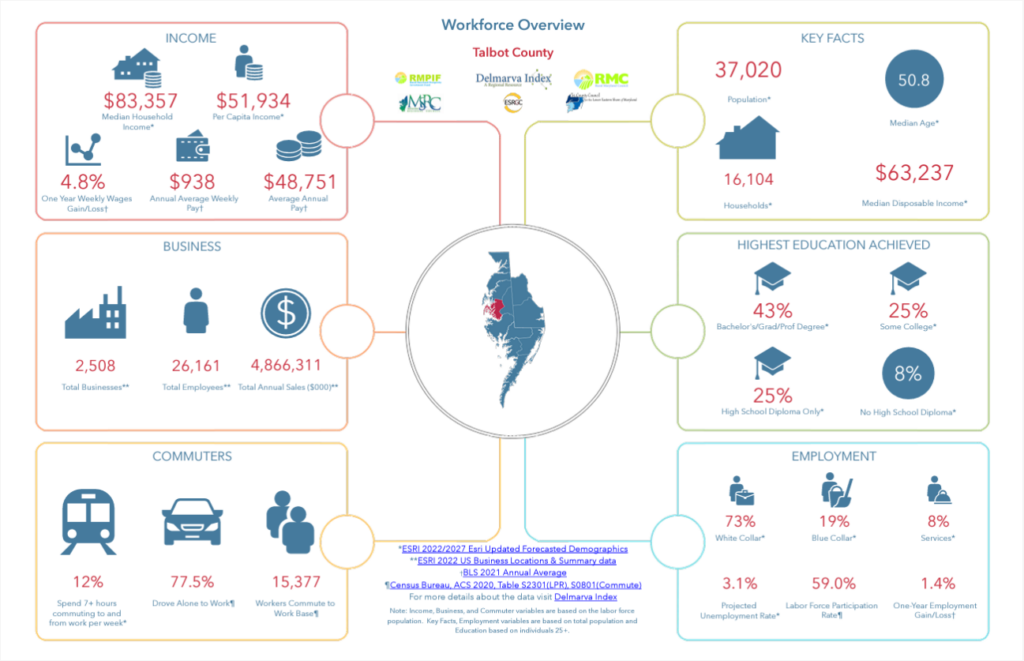 ___________________________
More Resources:
Talbot County Brief Economic Facts
Talbot County Workforce Overview
U.S. Census Bureau Quick Facts: Talbot County, Md. 
---
Major Employers
---
Tax Rates
Talbot County offers the lowest real property tax rate in the state of Maryland and the second lowest income tax rate. A complete list of tax rates is available here.