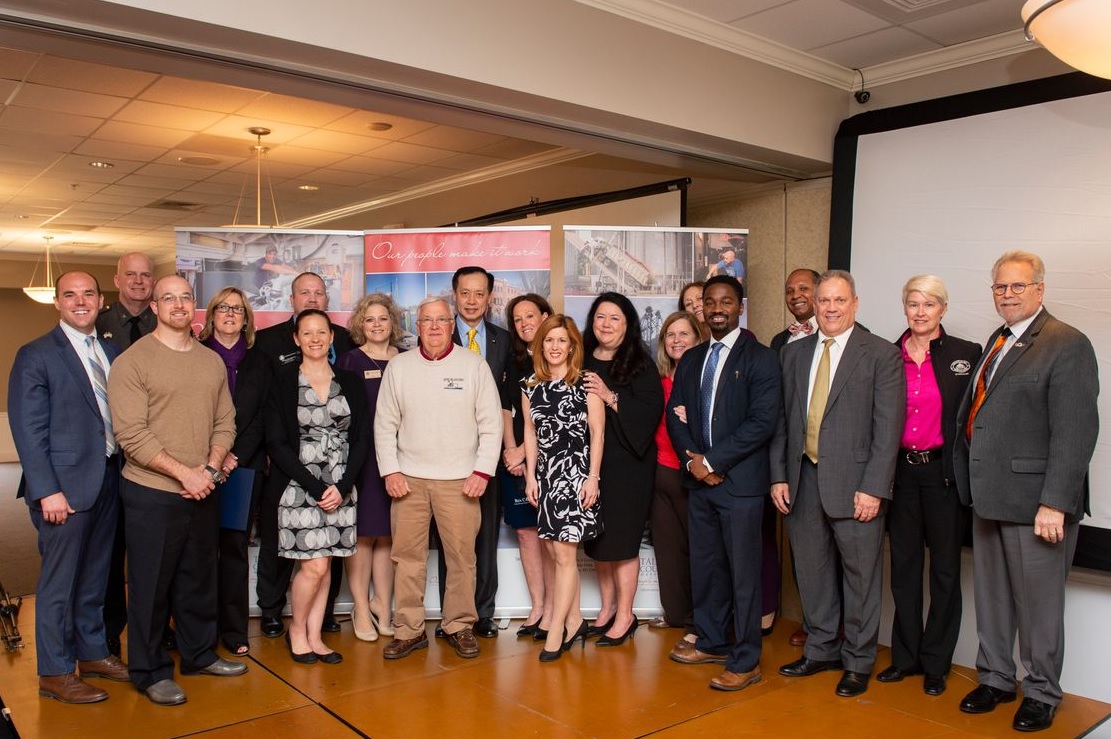 The 10th Annual Talbot County Business Appreciation Breakfast was an outstanding display of the impact Talbot County businesses have on the local community.
The event, held on April 13, 2018 at The Milestone Event Center in Easton, was hosted by the Talbot County Department of Economic Development and Tourism in partnership with the Talbot County Economic Development Commission. The Business Appreciation Breakfast celebrates the contributions made by businesses throughout Talbot County. This years theme was "Community Impact" and awards were given to businesses that were recognized by the public for positively impacting the community in a significant way. "Business is more than revenues, profit, and the bottom line," says Sam Shoge, Economic Development Coordinator. "The Community Impact Award is for businesses, projects,  and individuals that have gone above and beyond in making a commitment to serving their community."
2018 Community Impact Award Winners:
Chesapeake Bay Maritime Museum
Eat Sprout
Easton Utilities
Talbot County Sheriff's Office and Tidewater Rotary: Talbot Goes Purple
Tom and Judy Bixler, Oxford-Bellevue Ferry
Keynote Speaker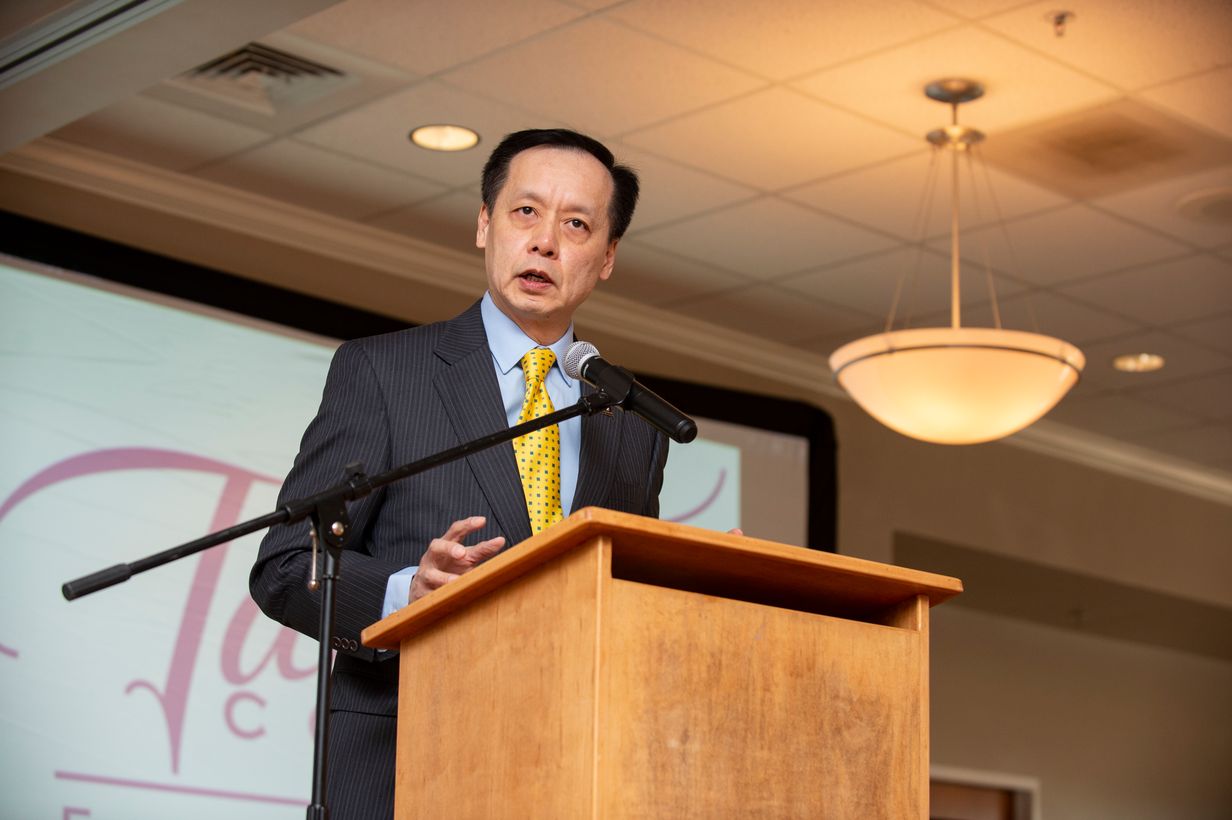 Deputy Secretary of Maryland Department of Commerce, Benjamin Wu, was the keynote speaker. In the Deputy Secretary's address, Mr. Wu commented that few counties have been as successful as Talbot County in merging their economic development and tourism departments, a structure that is similar to how the Maryland Department of Commerce is setup. "Tourism is a driver for economic development and prosperity," said Wu.
Mr. Wu highlighted accomplishments of the Hogan Administration in supporting economic development initiatives in Talbot County and Maryland.
Award Winners
Chesapeake Bay Maritime Museum
The Chesapeake Bay Maritime Museum (CBMM) is an economic driver in Talbot County, bringing locals and guests together, and generating sales taxes through non-mission related business units and tourism tax income through attracting accommodation, dining, and shopping guests to CBMM. CBMM is committed to social responsibility when it comes to community involvement. They have partnered with several profit and not-for-profit businesses to create a healthier and more robust business and community environment for all.
CBMM currently attracts more than 70,000 annual guests, a 40% increase in the number of visitors five years ago. In addition, a 2016 BEACON economic impact study conducted by Salisbury University, found that CBMM contributes $7.58 million in economic impact to Talbot County. CBMM is further investing in economic development and social responsibility by undergoing strategic and master planning in 2017-2018, the results of which will secure the future for CBMM and Talbot County as a destination.
Eat Sprout
Eat Sprout, started by Ryan and Emily Groll (pictured), have had an incredible impact on the community. Eat Sprout has been able to connect with local growers and purveyors of healthy food and produce to sell healthy and wholesome products. Their locally sourced, delicious meals are not only delivered to one's door, but can be found at "Sproutlettes" in various places throughout Talbot County. Ryan and Emily have partnered with schools and local community organizations to teach kids about cooking and healthy food, have distributed free food to needy neighbors in partnership with the Hunger Coalition, and show up at community events willing to roll up their sleeves and get involved.
Easton Utilities
Easton Utilities is responsible for the operation, management and maintenance of the electric, water, wastewater, natural gas, cable television and internet utility services for Easton and parts of Talbot County. Based on a thorough 5-year analysis of their rates compared to other regional providers, EU estimates they have saved their customers over $40 million. The savings generated as a result of Easton Utilities' efforts to minimize rates for these essential and quality of life services are spent in local restaurants, on arts and entertainment, as charitable contributions to important community organizations, or used as their customers so desire.
In addition, the ability to provide high-speed network capacity and a robust data infrastructure is critical to businesses, healthcare and educational institutions. Over the past year, EU has added two renewable energy sources at the Easton Sustainability Campus with the Landfill Gas to Electric Generator and the 2 MW Solar Array. In addition, this commitment to environmental stewardship brings significant benefits to Easton Utilities' customers and the community.
Easton Utilities also invest in their people by providing an official Mentoring Program and an Emerging Leader Development Program aimed at those interested in learning and growing professionally. As a major employer in Talbot County (140 staff), EU offers excellent benefits and compensation. Easton Utilities lists employee wellness and safety as a top priority. Easton Utilities' mission is to "enhance the quality of life in Easton and Talbot County" and this mentality is reflected in everything they do.
Talbot Goes Purple
Talbot Goes Purple is an awareness program that engaged the entire county and its youth to stand against substance abuse. This initiative was led by the Talbot County Sheriff's Office and Tidewater Rotary. Partners included Talbot County Public Schools, the Mid-Shore Community Foundation, Easton Utilities, and numerous local businesses, foundations, nonprofits, and residents.
Throughout the month of September 2017, the county was covered with purple banners, lights, signs, and car magnets in an effort to raise awareness about Project Purple. The Sheriff and his team visited more than 50 community groups across Talbot County, talking about the project and providing education about the dangers of recreational use of prescription painkillers. The event culminated with the lighting of downtown Easton and the Talbot County Courthouse, with support from Easton Utilities.
Tom and Judy Bixler, Oxford-Bellevue Ferry
In 2002, Captains Tom and Judy Bixler became a part of Oxford's long-running ferry history by purchasing the Oxford-Bellevue Ferry, the nation's oldest privately owned, continuously operating ferry. The ferry celebrates its 335th year in 2018.
Running between the town of Oxford and the village of Bellevue, the ferry was established by Talbot County in 1683. Today, the ferry operates from mid-April through mid-November and is one of the county's most beloved tourist attractions.
Tom and Judy are an integral part of life in Oxford and are active in many local organizations. Both Bixlers are stalwart champions of tourism in Oxford, Talbot County, and the state of Maryland. Judy has helped captain the Oxford Business Association (OBA) for many years, and she serves as chairman of the Talbot County Tourism Board. She is also vice-chairperson of the Maryland Tourism Development Board, where she is serving a second term as the transportation industry representative.