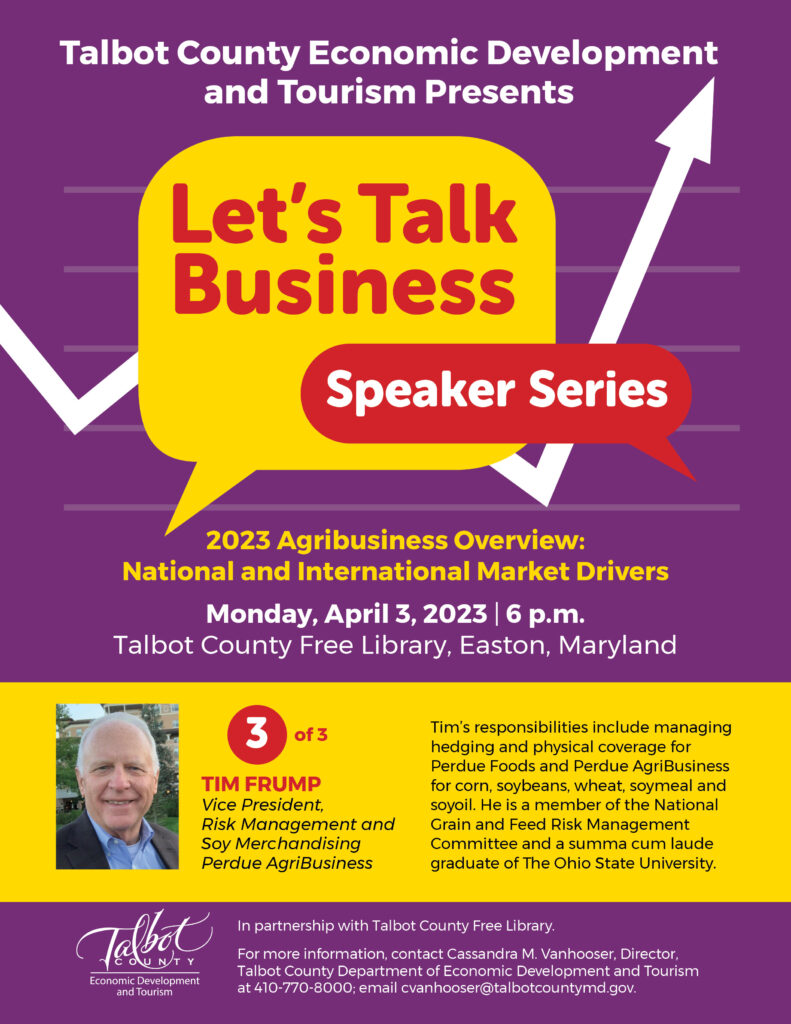 Tim Frump, vice president of risk management and soy merchandising at Perdue AgriBusiness, will speak at the Let's Talk Business Speaker Series at 6 p.m. on Monday, April 3, at the Talbot County Free Library in Easton. He will present an overview of current market conditions in agriculture, including a look at how the war in the Ukraine is affecting commodity prices.
Frump's presentation wraps up the spring speaker series presented by the Talbot County Department of Economic Development and Tourism in partnership with the Talbot County Free Library.
"The media has reported extensively on the Russian invasion of the Ukraine and its impact on the global grain market," says Cassandra Vanhooser, director of economic development and tourism for Talbot County. "We are excited to have Tim join us to discuss the market trends impacting local farmers and agribusinesses, including current grain production the Ukraine."
Frump is responsible for managing the hedging and physical coverage for Perdue Foods and Perdue AgriBusiness, one of the largest family-owned grain companies in the United States. A native of Ohio, he has enjoyed a multi-decade career that includes managing the export trading of corn, soybeans, wheat, and specialty grains.
Before joining Perdue, Frump managed the trade activity for corn, sugar, soy oil, soy meal, natural gas, and other hedgeable commodities at Tate and Lyle. He also has traded many U.S. domestic markets with Cargill, ADM, and CGB Enterprises. Frump is a summa cum laude graduate of The Ohio State University.
The Talbot County Department of Economic Development and Tourism's mission is to enhance and promote a business-friendly environment for current and prospective enterprises and to advocate for policies that support and strengthen the economic vitality of Talbot County. The department's vision for Talbot County is built on the principles of strong communities, empowered businesses, and innovative solutions.
Business owners and managers are encouraged to attend all sessions of the speaker series and to subscribe to the Department of Economic Development and Tourism's Talbot Works newsletter and breaking news at www.talbotworks.org. The department can also be reached at 410-770-8058 or by visiting their office at 11. S. Harrison Street, Easton, Md.
---
Never Miss Talbot County Business News: Subscribe to Talbot County Economic Development and Tourism's Talbot Works newsletter here.