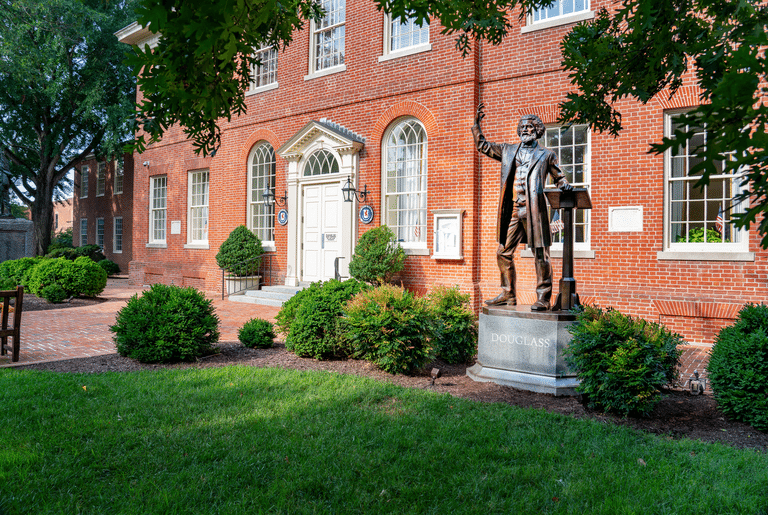 Frederick Douglass and Nathaniel "Nace" Hopkins were featured in "Trailside: Freedom's Harbor," an article recently published in America's Civil War Magazine, for their contributions to African American history.
The article highlighted the Eastern Shore as being steeped in African American history and the birthplace of both Frederick Douglass and Harriet Tubman.
"Trailside: Freedom's Harbor" featured several destinations for travelers to visit that highlight the historic role played by African Americans from the region. One of the destinations was the Frederick Douglass statue located on the lawn of the Talbot County Courthouse in Easton, the site where Douglass delivered his "Self-Made Men" speech in 1878.
Click here to see photos of the groundbreaking of Frederick Douglass Park on the Tuckahoe
Another location is in the town of  Trappe at the grave site of Nathaniel "Nace" Hopkins, a former slave who left his owner and served in the United States Colored Troops during the Civil War. He returned to Talbot County to help newly freed blacks and helped establish the county's first school for black children in 1878.
Oxford's Robert Morris Inn was also featured. Built in 1710 and named for the famed "Financier of the Revolution," the Robert Morris Inn is the oldest full-service inn in America. The inn is located across from the Oxford Wharf, which served as a primary embarkation point for the United States Colored Troop regiments raised on the Eastern Shore.