The same qualities that make people great soldiers also make them ideally suited for the world of business. Veterans rank high as adaptable, strategic leaders who function well in teams and can efficiently execute a business plan.  They make great entrepreneurs too.
According to U.S. Census Bureau, Talbot County was home to more than 3,000 veterans in 2019, and counted 664 veteran-owned businesses in 2012, the last year figures were available. Chances are you've eaten in a restaurant owned by a veteran, had your car serviced by a veteran, or read a newspaper article written by a veteran.
A wealth of programs and services exist for those who want to start a business or put their skills and experiences to work for employers. Check out the resources available for veterans.
The Entrepreneurial Path
Talbot County veterans who have recently launched a business—or those want to start a business—can take advantage of Project Opportunity. Started by U.S. Army veteran Joe Giordano in 2010, the program offers free entrepreneurship training, counseling, and coaching in a supportive community of veterans. Project Opportunity has prepared more than 300 veterans to start and run a business.
The next series of classes begins September 8. An orientation on Wednesday, August 18, will be held from 6:30-8:30 p.m. at the American Job Center in Salisbury. Register here.
SCORE, a nonprofit association partnered with the U.S. Small Business Administration (SBA), SCORE helps small businesses start and succeed. Its network of 13,000 volunteers includes veterans who understand what it's like to transition from the military into business.
Veteran Business Outreach Centers (VBOCs). The University of Maryland was recently awarded a five-year, $2 million grant from the SBA to launch a new Mid-Atlantic Veteran Business Outreach Center. The center will provide resources and support to aspiring veteran entrepreneurs and veteran-owned small businesses, including how to develop business and financial plans and how to conduct a feasibility analysis. Mentors are also available to guide participants as they launch their businesses.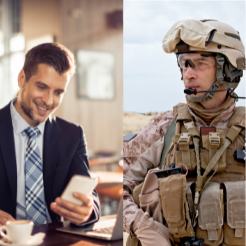 The SBA also offers a number of other programs for veterans interested in starting a business, including "Boots to Business," the Women Veteran Entrepreneurship Training Program (WVETP), the Service Disabled Veteran Entrepreneurship Training Program (SDVETP), and the Veteran Federal Procurement Entrepreneurship Training Program (VFPETP).
The Franchise Route to Ownership
Franchises are another opportunity that is attractive to veterans who want to run a business. VetFran, a strategic initiative of the International Franchise Association (IFA), was founded in 1991 and includes over 600 member companies that offer financial incentives, education, and support to veterans interested in franchise ownership and/or a career path in franchising.
According to VetFran, 14% of all franchisees in America are owned by veterans. The franchise business model allows individuals to go into business for themselves, but not by themselves. An established franchise business operates on proven systems and defined procedures. Executing systems and following procedures with precision is emphasized in military training, and leads to success in franchising.
Franchises also provide training. The military has extensive training and teaches very specific skills to be used to carry out very specific tasks. Franchises also have comprehensive training and support built into the franchising process. This means a veteran can enter a completely new field, and is more likely to succeed by following the franchisor's proven business model, and completing the training program.
Business Support
Military Personnel and Veteran-Owned Small Business No-Interest Loan Program (MPVOLP) – This Maryland Department of Commerce program provides $1,000-$50,000 no-interest loans to small businesses in certain categories.  These include small businesses owned by military reservists or National Guard members called to active duty, veteran small business owners or veterans seeking to start a small business, and small businesses that employ service-disabled veterans.
PENFED Veteran Entrepreneur Investment Program (VEIP) – Pentagon Federal Credit Union's VEIP program provides financial opportunities for veterans by creating a robust network to obtain seed capital, access to other capital investment programs, and connections to other to potential funders.
Career Assistance
The Talbot County Career Center features services tailored to veterans, transitioning military personnel, and spouses. Sharon Egerson is the Veteran Employer Representative/Disabled Veteran Outreach Program Specialist in Easton where veterans can find job placement and training, vocational guidance, and case management services.
The team in Easton also works with local businesses to develop career opportunities for veterans. The Career Center operates through the Maryland Department of Labor. Contact Sharon at 410-822-3030 or via email at Sharon.egerson@maryland.gov.
U.S. Chamber of Commerce Hiring Our Heroes – A nationwide initiative to help veterans, transitioning service members, and military spouses find meaningful employment opportunities.
U.S. Department of Labor Veterans.gov – A virtual "first stop" in the employment search process for veterans, transitioning service members, and their spouses, as well as for employers looking to hire veterans.
U.S. Department of Veterans Affairs Veteran Readiness and Employment Program (VR&E) – Offers support and services for returning to work after deployment, employment counseling and job search support, information on how to start a business, and vocational training to develop new skills.