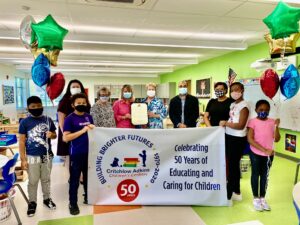 Janice Adkins and Happy Critchlow made the connection between the quality and availability of child care and a successful future for Talbot County 50 years ago when they founded Critchlow Adkins Children's Centers. The mission of this nonprofit organization is simple: to provide quality, financially accessible childcare for children and their families in a nurturing, diverse, safe, and enriching environment. If only they could see the fruits of their labor now.
Critchlow Adkins has cared for and educated more than 11,500 children since 1970 through preschool, before- and after-school, and summer camp programs. It's an achievement worth celebrating, and the staff was set to do just that, until COVID-19 came along and upended their plans.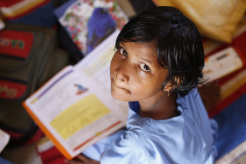 Executive Director Cristy Morrell and her staff haven't had time to pause for reflection since the pandemic threw them a curveball. As with schools, their classrooms closed when COVID-19 hit. Now that they have reopened on a limited basis, Morell and her staff are focusing on the future and their goal of providing the best environment possible for their students.
They work closely with the public schools to ensure programs and resources are available to students whose working parents cannot be home to supervise virtual learning.
"We are very lucky to have a wonderful relationship with Talbot County Public Schools," Morrell says. "This is especially critical as we navigate school in the midst of a health crisis."
Striving for Excellence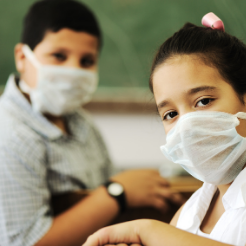 Critchlow Adkins offers preschool and before- and after-school programs in Easton, St. Michaels, and Cordova, and before- and after-school care in Trappe. This year the staff was particularly excited about moving into its new facility in the Easton Elementary complex. The brightly colored interior and state-of-the-art equipment allow the staff to offer high quality care and educational resources to all their students.
All sites are accredited by the Maryland State Department of Education and are the only in Talbot County to earn the coveted EXCELS Rating 5.
"The EXCELS rating is a voluntary program that examines curriculum, family engagement, safety, multicultural learning, and the professional education and continued learning of staff," Morrell explains. "In so many cases we are the grounding force in a child's life, so this is important to us. We go through the accreditation process every three years."
Approximately 45 percent of CACC families receive tuition assistance and of those, approximately 20 percent are single mothers. Tuition for a child age 2 is around $175 per week. The ratio of students to teachers at that age is 6 to 1, which is what drives costs. Still, Critchlow Adkin's tuition is among the lowest in the county.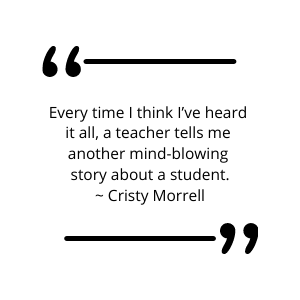 "Every time I think I've heard it all, a teacher tells me another mind-blowing story about a student," Cristy Morrell, says. "If our kids need food or clothing, we find the resources to help them. Our teachers go above and beyond for their families."
Critchlow Adkins has more than 40 community partnerships and a number of donors to help them provide affordable services. It's an investment in the future of Talbot County.
Childcare and the Economy
The far-reaching economic implications of quality, affordable, and accessible child care are evident in the numbers found in a study done by the Business Economic and Community Outreach Network (BEACON) at Salisbury University:
Every dollar spent on childcare and retained in the community generates $1.88 in economic activity. BEACON estimates the economic impact at $1.7 million in Talbot County.
On average, $1 million of wages is retained annually when parents have access to affordable childcare. The Maryland Family Network reported that the average cost of childcare in Talbot County is approximately $15,355 per year. The median family income in Talbot County is approximately $84,000 with almost one-third of families earning below $50,000. Many of these families are hourly wage earners who cannot afford to miss work.
Future savings to society per student are valued at $50,000 in public healthcare costs, $33,000 in crime related costs and $3,700 in welfare costs across a lifetime when children are afforded quality childcare.
Janice Adkins and Happy Critchlow knew that quality child care and early childhood education are important economic drivers and enhance the productivity of the workforce. Their foresight has laid a firm foundation for the success of Talbot County and its people.