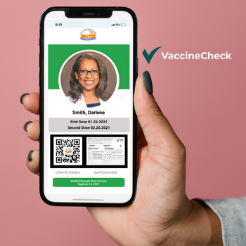 The Talbot County Health Department is partnering with PinPoint US, LLC to offer free digital COVID-19 vaccine cards for Talbot County residents.
The VaccineCheck service will generate a personalized digital version of a CDC vaccine card after verifying a patient's COVID-19 vaccine history through Maryland's statewide immunization registry. Residents can also use the service to upload images of their paper CDC vaccine card for safe digital record-keeping accessible through their smartphone or computer. Data uploads and verification of vaccine history are conducted using the HIPAA-compliant PinPoint platform.
"We are very excited to be able to offer this innovative and convenient way to verify COVID immunization status," says Dr. Maria Maguire, Talbot County Health Officer. "Anyone who wants a secure, digital record of their COVID vaccine, or who has lost their card, can now have an authenticated digital version at their fingertips."
The digital vaccine cards can be generated for any Talbot County resident who was vaccinated in Maryland, Pennsylvania, New Jersey, New York, DC, and, soon, Virginia and Delaware.
Additionally, any Marylander vaccinated in Talbot County, no matter their county of residence, may use this service. The platform is available in both English and Spanish.
Talbot County residents can access the VaccineCheck service through the Talbot County Health Department website.
For more information and resources about Talbot County's response to COVID-19 and how to receive vaccine please visit talbothealth.org.