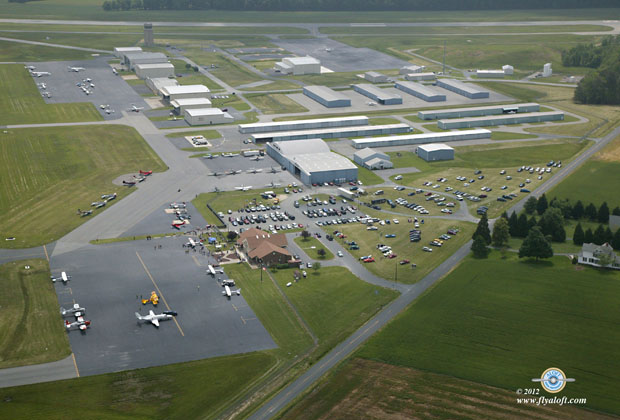 The Easton Airport recently celebrated its 75th anniversary on July 20, 2018. A new exhibit, "The History of Aviation in Talbot County," was also unveiled and will be on permanent display at the Easton Airport terminal.
A general aviation airport located on the north-side of Easton, Easton Airport is owned and operated by the Talbot County Government.
"For the past 75 years, the airport has provided essential access for aviation enthusiasts, corporate pilots and local businesses. The airport was built for use by the military during World War II and today is one of the busiest general aviation facilities in Maryland, linking Talbot County to the rest of the country and to the world" writes Christina Acosta in an article published in the Star-Democrat.
Currently, there are 215 based aircraft, 29 jets, and 3 gliders based at Easton Airport. Last year, the airport generated 72,857 flight operations.
The economic impact of the airport is large. In a 2015 report by the Maryland Airport Administration, Easton Airport supports 483 jobs, generates $42,461,000 in business revenue, and contributes $2,126,000 in local and state tax revenue. These economic impact reports are generated every three years and the 2018 report is forthcoming.
Please enjoy a video of the ceremony below. Citations were awarded to the airport from Talbot Council President Jennifer Williams, Congressman Andy Harris, State Senator Addie Eckardt, State Delegate Johnny Mautz, Easton Mayor Bob Willey, and Senator Chris Van Hollen's Regional Director Melissa Kelly.