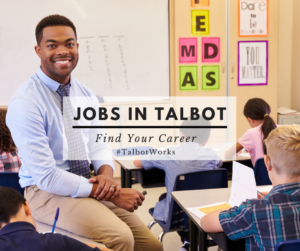 Job opportunities abound in Talbot County. See who's hiring.
Aphena Pharma Solutions in Easton has openings for packer, production supervisor, director of project management, and others.
Applebee's in Easton has openings for hosts, servers, and line cooks.
Chesapeake College has openings for adjunct instructors, a welding and fabrication instructor, an academic and career advisor, and others.
Dunkin' Donuts is has full- and part-time openings in Easton and surrounding areas.
Eurofins USA Agroscience Service in Easton is seeking candidates for Assistant Scientist I, Analytical Chemist; Assistant Scientist I, Aquatics; Associate Scientist I, Environmental Fate; Lab Technician, Aquatics; and a Project Production Planner.
Talbot County is looking for a director of Emergency Services, collection system operator, assistant planning officer, correctional officer, paramedic, and others.
Talbot County Public Schools has openings for coaches, instructional assistants, an interpreter, custodians, and a wide variety of teaching positions.
UM Shore Regional Health in Easton has openings for registered nurses, lab assistants, medical assistants, and a host of other positions.
UPS in Easton has openings for seasonal vehicle package drivers. The pay is $21 per hour, plus $.575 per mile.
For more listings, check out:
The American Jobs Centers Network is a partnership between local workforce development agencies including the Maryland Department of Labor – Division of Workforce Development, Upper Shore Workforce Development Board, Department of Rehabilitation Services, and Disability Navigator.
The Talbot County American Job Center is located at 301 Bay Street, Suite 301 | Easton, MD 21601 (behind Acme). The phone number is 410-822-3030.
About Talbot County Department of Economic Development and Tourism
The mission of the department is to enhance and promote a business-friendly environment for current and prospective enterprises and to advocate for policies that support and strengthen the economic vitality of Talbot County. The vision the department sees for Talbot County is simple: Strong Communities. Empowered Businesses. Innovative Solutions.
If you own or operate a business here in Talbot County, or want to start one, you are encouraged to contact the Department of Economic Development and Tourism at 410-770-8058 or visit their office at 215 Bay Street, Suite 5, Easton, MD.