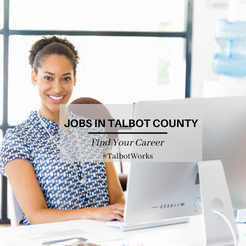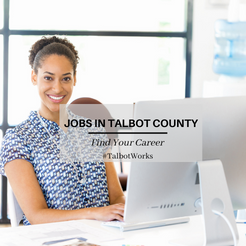 Start your next career in Talbot County. Our businesses are hiring!
Acts/Bayleigh Chase in Easton is hiring:
Home Health Registered Nurse ($4,000 Sign-On Bonus)
Maintenance Technician
Line Cook ($2,000 Sign-On Bonus)
Housekeeper
Dining Room Supervisor
Geriatric Nursing Assistant
Life Enrichment Assistant
Security Guard
Aphena Pharma Solutions in Easton has many openings to fill, including:
Custodial Technician
Project Manager
Machine Operator
Warehouse Clerks I and II
Master Scheduler
Manufacturing Engineer
Human Resources Assistant
Chesapeake Bay Maritime Museum in St. Michaels has full- and part-time openings for:
Shipwrights – Project Based
Grounds Maintenance Associate
Summer Camp Instructors
Guest Service Associate
Marina Associate
Choptank Transport in Easton is hiring:
Market Pricing Analyst
Account Coordinator
Full Stack Developer
Logistics Coordinator
Inside Sales Rep
Eurofins Agroscience Services in Easton is looking for:
Scientific Writer Plants & Invertebrates Laboratory
Assistant Scientist I, Biologics
Director of Biologics
Staff Scientist, Analytical Chemistry
Harris Teeter in Easton is looking for:
Produce Clerk
Cashier
Part-Time Personal Shopper
Full-Time Staff Pharmacist
Journeyman Meat Cutter
Cheese Clerk
Deli Bakery Clerk
Inn At Perry Cabin in St. Michaels has openings for:
Maintenance
Food and Beverage Supervisor
Nail Technician
Guest Service Concierge
Maître d'
Latitude 38 in Oxford is looking for:
Peak Healthcare the Pines in Easton is hiring:
Social Work Director
Staff Licensed Practical Nurse (LPN)
Cook
Dietary Aide
Housekeeping
Geriatric Nursing Assistant (GNA)
Registered Dietician
Qlarant in Easton is searching for:
Administrative Assistant/Operations Coordinator
Administrative Support – Medicare Fraud Specialist
Data Scientist III (Remote)
Business Systems Analyst II – System Enhancement (Remote)
Safe Harbor Marinas in Oxford is looking for a painter.
Shore United Bank in Easton has the following openings:
Senior Branch Banking Specialist
Branch Operations Specialist
Commercial Loan Documentation Specialist
Senior Credit Analyst
Loan File Control Representative
Talbot County Department of Social Services in Easton is hiring:
Social Worker II – CPS Investigator
Human Resources Officer III
Social Worker II – Family Preservation
Computer Network Specialist II (LAN Administrator)
Talbot County Government has openings for:
Collection System Operator I
Communications Specialist I
EMT/EVO
Finance Director
Machine Equipment Operators II and III
Paramedic
Senior Engineer
Talbot County Public Schools is looking for:
School Counselor
Community School Program Manager
Admin Assistant
Maintenance Specialist
Teachers – Physical Education, Reading, Art, Music, Social Studies, Elementary, Spanish, Early Childhood, English, Science
Sign Language Interpreter
Instructional Assistant
Talbot Hospice in Easton has the following openings:
Marketing and Development Associate
CNA Hospice House, Part Time Evening
CNA Hospice Aide for Home Care, Full Time ($2,000 Sign-On Bonus)
RN Per Diem
Tilghman Island Inn is hiring for all positions, including:
Assistant Manger
Servers
Bussers
Housekeepers
Floor Supervisor
Town of St. Michaels is looking for a Billing and Accounts Receivable Clerk. Apply here.
UM Shore Regional Health in Easton is looking for a variety of professionals, including:
Inpatient Physical Therapist
Registered Nurse – Multi Specialty
Medical Lab Assistant
Director, Materials Management
Radiation Therapist
Imaging Assistant
Director of Behavioral Health Sciences
Nursing Tech (CAN) – Multi-Specialty
Walmart in Easton is hiring:
Online Order Filling and Delivery
Stocking and Unloading
General Merchandise
Food and Grocery
Cashier and Front End Services
Wylder Hotel on Tilghman Island is hiring:
Café Attendant
Housekeeper
Server
Front Desk Receptionist
Kitchen Staff
For more listings, check out:
College Central Network
Chesapeake College uses College Central Network as its official job search and job posting service. The exclusive site can be accessed 24/7 at www.collegecentral.com/chesapeake.
Job Seekers, quickly apply to jobs and Internship opportunities posted exclusively for you, and search other opportunities via Jobs Central® and Intern Central®, national job boards.
Employers post unlimited jobs for free to talented student, alumni and community members
Android & iPhone smartphone app is available for download at collegecentral.com/app
American Jobs Centers Network
The American Jobs Centers Network ((https://www.dllr.state.md.us/county/uppershore/) is a partnership between local workforce development agencies including the Maryland Department of Labor – Division of Workforce Development, Upper Shore Workforce Development Board, Department of Rehabilitation Services, and Disability Navigator.
The Talbot County American Job Center is located at 301 Bay Street, Suite 301 | Easton, MD 21601 (behind Acme). The phone number is 410-822-3030.
About Talbot County Department of Economic Development and Tourism
The mission of the department is to enhance and promote a business-friendly environment for current and prospective enterprises and to advocate for policies that support and strengthen the economic vitality of Talbot County. The vision the department sees for Talbot County is simple: Strong Communities. Empowered Businesses. Innovative Solutions.
If you own or operate a business in Talbot County, or want to start one, contact the Department of Economic Development and Tourism at 410-770-8000.