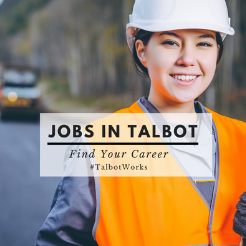 Pass the word — employers in Talbot County are hiring! Click on the links below for more information.
Acts Retirement-Life Communities, Easton, has openings for a line cook, laundry aide, licensed practical nurses, and other positions.
Chesapeake College has openings for adjunct instructors in agriculture economics, chemistry, criminal justice, math, welding, and other fields.
Harris Teeter in Easton is looking for a part-time floral clerk, part-time bagger, part-time personal shopper, cashiers, and more.
Inn at Perry Cabin in St. Michaels has openings for a dishwasher, guest services agent, executive sous chef, spa coordinator, and others.
Shore United in Easton has openings for a part-time teller, systems analyst/developer, and a credit analyst III.
Talbot County is looking for collection/distribution system operator, court administrator, court recorder, correctional officer, economic development and tourism coordinator, paramedic, and others.
UM Shore Regional Health in Easton, is looking for:
Registered nurses
Facilities mechanic
Nursing tech
Lab assistants
and a host of other positions
For more listings, check out:
The American Jobs Centers Network (https://www.dllr.state.md.us/county/uppershore/) is a partnership between local workforce development agencies including the Maryland Department of Labor – Division of Workforce Development, Upper Shore Workforce Development Board, Department of Rehabilitation Services, and Disability Navigator.
The Talbot County American Job Center is located at 301 Bay Street, Suite 301 | Easton, MD 21601 (behind Acme). The phone number is 410-822-3030.
About Talbot County Department of Economic Development and Tourism
The mission of the department is to enhance and promote a business-friendly environment for current and prospective enterprises and to advocate for policies that support and strengthen the economic vitality of Talbot County. The vision the department sees for Talbot County is simple: Strong Communities. Empowered Businesses. Innovative Solutions.
If you own or operate a business here in Talbot County, or want to start one, contact the Department of Economic Development and Tourism at 410-770-8000 or visit the office at 215 Bay Street, Suite 5, Easton, MD.