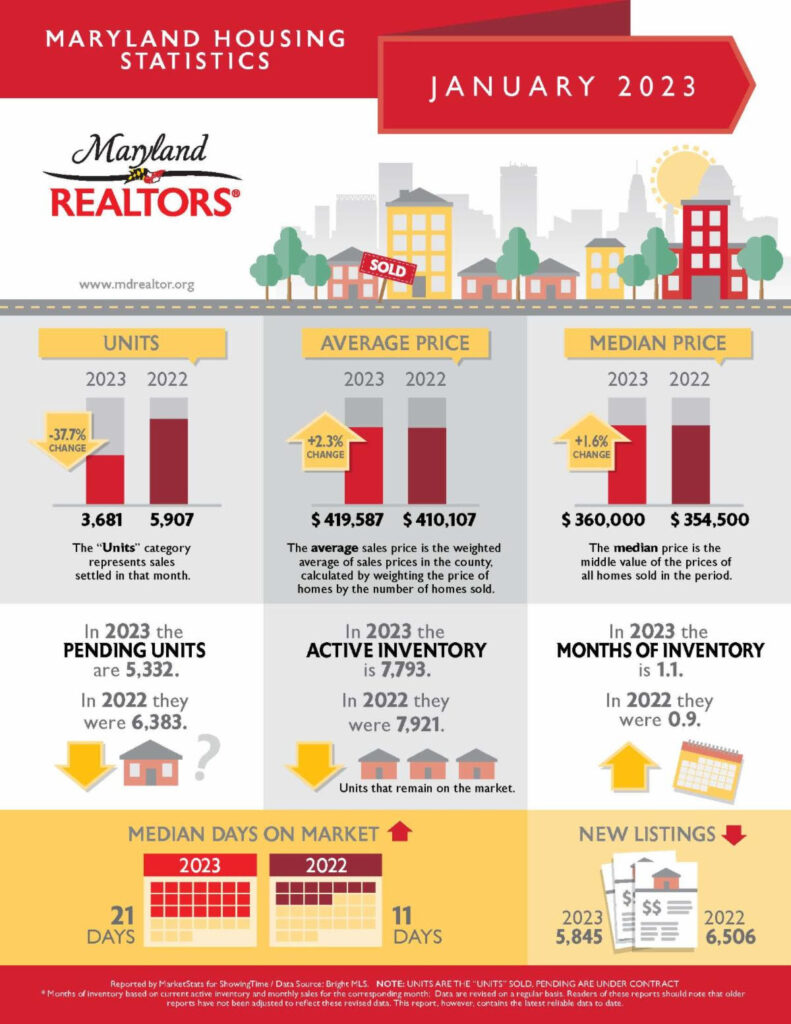 ANNAPOLIS, MD—February 13, 2023—Maryland home sales dropped 37.7% to 3,681 units in January 2023 against 2022's figure of 5,907 units, according to the latest Maryland REALTORS® Housing Statistics Report. The average sales price rose 2.3% to $419,587, while the median sales price increased 1.6% to $360,000.
While sales are down overall—pending sales decreased 16.46% to 5,332 units, active inventory decreased 1.62% to 7,793 units, and new listings decreased 10.16% to 5,845 units—the decrease in January was not as dramatic as the previous three months' decreases.
According to Yolanda Muckle, 2023 President, Maryland REALTORS®, January's numbers may indicate a market that's getting used to current conditions.
"Last November, the 30-year fixed mortgage rate peaked at 7.08%," said Muckle. "In January, the rate was as low as 6.13%. While this pales in comparison to rates in the early part of 2022, consumers have recognized that conditions are more favorable now than in late 2022, so yes, we've seen some movement but certainly not enough to offset the current drop in home sales."

Yolanda Muckle, 2023 President, Maryland REALTORS®
Maryland still suffers from a housing shortage of more than 120,000 units, according to Freddie Mac and the National Association of REALTORS®.
For many Marylanders, finding housing in the "missing middle" range has proven difficult, as people with moderate incomes often make too much to qualify for housing assistance, yet not enough to save for a down payment.
Earlier in February, Maryland REALTORS® members and leadership spoke to Maryland legislators about ways to ease this housing shortage, which includes accessory dwelling units or ADUs, which are independent dwellings located on the same property of a single-family home, and adaptive reuse of commercial buildings. "This is an all-hands-on-deck moment," said Muckle. "We need to work together—state and local governments and this industry—to produce solutions that work for everyone."
To review the results from a January 2023 State of Maryland Housing survey, please click here.
Download: 2023 Maryland Housing Statistics Infographic
Download: 2023 Maryland Housing Statistics by County
---
Never Miss Talbot County Business News: Subscribe to Talbot County Economic Development and Tourism's Talbot Works newsletter here.