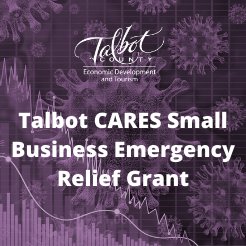 Talbot County will begin taking applications on Monday, June 8 for a grant program designed to help local businesses impacted by the COVID-19 public health crisis. This is the second part of Talbot CARES, a program developed by the Talbot County Council to disperse funds the county received as part of the CARES Act.
The Coronavirus Relief Fund (CRF) established under the Coronavirus Aid, Relief, and Economic Security (CARES) Act allocated $6.4 million to Talbot County. Half of the money was earmarked for use on healthrelated expenditures and is being administered by the Talbot County Health Department.
The program is open to business and not-for-profit organizations located in Talbot County with 50 employees or less. Applicants must also demonstrate a loss of business revenue of at least 25% related to COVID-19 public health emergency. Funds may be used for expenses incurred between March 16, 2020, and December 30, 2020.  Read more!