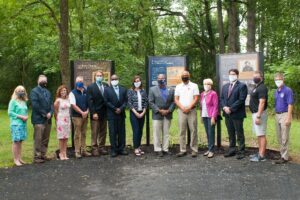 Talbot County took another step forward in the development of the Frederick Douglass Park on the Tuckahoe near the town of Queen Anne today as it installed outdoor exhibits on a bluff overlooking a wide expanse of Tuckahoe Creek.
The first panel illustrates Douglass's childhood that was spent with his grandparents on a farm just south of the park. The second panel tells the story of Douglass's life in other parts of Talbot County as he grew to adulthood, while the third traces his journey to international prominence as an abolitionist, writer, orator, and statesman. The fourth panel orients people to the park and invites them to participate in the park planning process.
"There's no questions that heritage tourism is an economic driver on the Eastern Shore," says Director of Economic Development and Tourism Cassandra Vanhooser. "With these panels we are beginning to tell the Frederick Douglass story in a more meaningful way. We are also creating a better tourism experience for those who are looking for inspiration from a great American who was born in Talbot County."
Lt. Gov. Boyd Rutherford was among the dignitaries on hand for the installation, which was part of a larger statewide ceremony to declare September International Underground Railroad Month in Maryland. The Underground Railroad helped eradicate slavery in the United States and was a cornerstone for the more comprehensive civil rights movement that followed.
Tributes to Douglass and His Mother
In a pre-taped video message, Kenneth Morris Jr., the great-great-great grandson of Frederick Douglass, paid tribute not just to his heralded grandfather, but also to his great-great-great grandmother Anna Murray Douglass. Born across the Tuckahoe in Caroline County, Anna met Frederick in Baltimore while he was still enslaved. According to Morris, she was one of the first people to plant thoughts of freedom in a young Frederick Douglass's mind.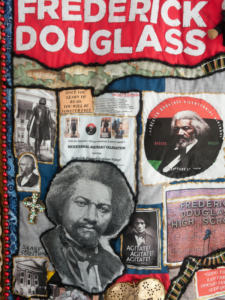 "Had she not sold her personal belongings to help finance his escape, who knows if he would have even had the courage or wherewithal to try to escape?" Morris asked. "We would have been a very different country today. I am as proud of her as I am of him.
"She was a conductor on the Underground Railroad out of their house in Rochester, New York, where she helped ferry hundreds of freedom seekers trying to make it to Canada to gain their freedom," Morris continued. "I am as much a product of her as I am of him."
The rest of the day belonged to Frederick Douglass. Morris noted that rarely a day passes without him asking himself what his great-great-great grandfather would do in a particular situation. The question is especially poignant in these unsettled times.
"Frederick Douglass would express his rage and anger through words," Morris surmised. "If anyone ever understood the real power of words, it was Frederick Douglass. In fact, he risked his life to read and write. An incredible wealth of ideas stored in Douglass's mind were unlocked because of his mastery of the both the spoken and written words."
Morris encouraged those listening in person and virtually live streaming on Facebook to be like Douglass. "We need to use our voice, our keyboard, and our vote to affect change," he said. "History lives in each of us, but the future depends on how we carry that forth."
To learn more about Frederick Douglass and his time in Talbot County, visit the Talbot County Economic Development and Tourism's frederickdouglassbirthplace.org website.