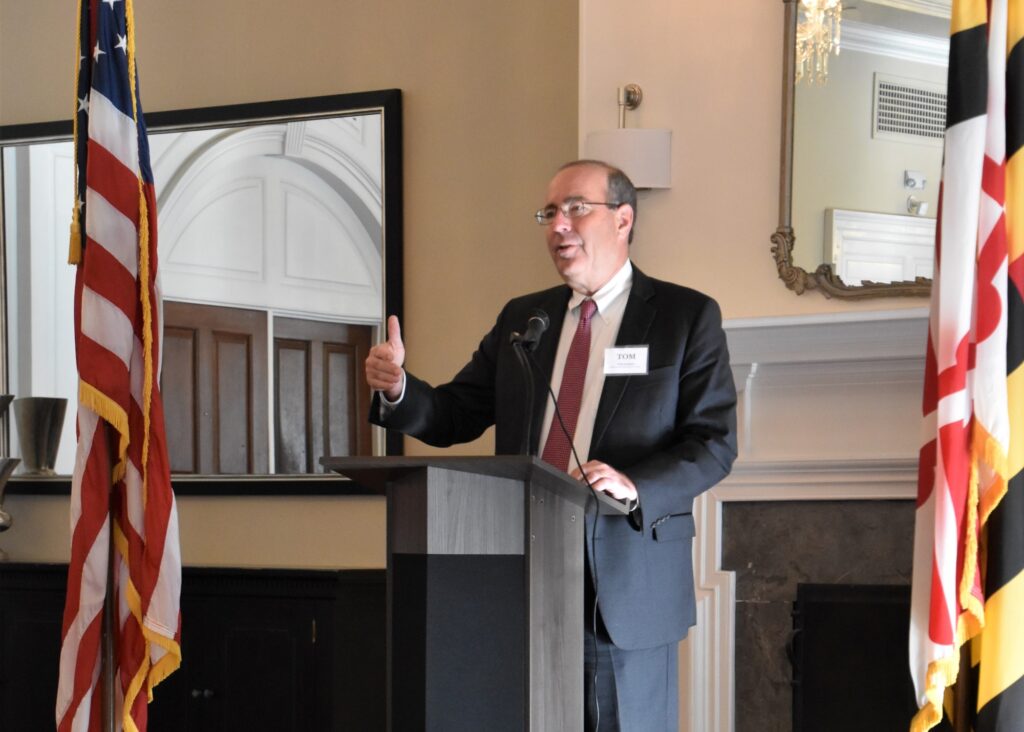 The COVID-19 pandemic is still affecting the economy, according to Federal Reserve Bank of Richmond President and CEO Tom Barkin.
Barkin addressed recession fears and other economic topics with Talbot County's community and business leaders on Wednesday, Aug. 16 at the Tidewater Inn in Easton, Md. The event was hosted by Talbot County Economic Development and Tourism, Talbot County Chamber of Commerce, and Easton Economic Development Corporation.
While leading indicators have pointed to an economic downturn for the past 15 months, the country is not yet in a recession. The Fed has raised interest rates, unemployment is at a 50-year low, the GDP has grown, Americans are traveling in record numbers, and Taylor Swift is on a billion-dollar tour.
"You have to ask why we haven't seen a recession, given the fact that rates have gone up, given the fact that everybody's predicting one," Barkin said. "I think it's because the pandemic is still with us. Not the public health pandemic, but the economic dislocation part of the pandemic."
Consumer spending makes up 68% of the economy. Consumer demand remains strong thanks to excess savings accrued during the pandemic, elevated housing prices, and robust jobs. This has helped business owners continue to invest in their businesses when they might otherwise have tightened their belts.
Yet risks abound, and the threat of recession remains high. Noting that high inflation, the war in Ukraine, and global concerns about China are certainly concerning, Barkin still refrained from predicting a recession.
"The people predicting a recession will someday be right, but most recessions come suddenly," Barkin said. "You get a sudden shock that causes consumers to pull back."
The Fed's interest rate hikes have already pushed some industries into "mini-recessions," Barkin noted, and "further slowing is almost inevitably on the horizon." But a slowdown, if it happens, will look different this time around.
Barkin said reducing a possible recession's severity could be dislocation in the labor market, latent demand, and a conservative approach in anticipation of a recession.
"We've been talking about a recession for a long time now,' Barkins said. "If you're a business and you're thinking about a recession, you plan conservatively. Banks have cut back as I talked about earlier, and you've got consumers who are tightening their belts. If you do have a recession, it's going to go into one where people have actually been pretty conservative and that could be the source of a revival."

"You could even argue that some of the recent uptick that I was talking about earlier has been supported in part by businesses and consumers and governments, who had conservative recessionary forecasts and have now overperformed it and so have cash in the pocket and are ready to spend."
Barkin said there is also one more scenario with inflation normalizing in short order, and the economy dodging any additional trouble.
"There's a lot of talk over the last few weeks about the potential for what is often called a soft landing," he says. "Certainly, the last two months' inflation rates have been good ones. I definitely hope those are signs because the Fed's objective to be sure is not to cause a recession, but just to get inflation under control.
"Because the lesson of the '70s is very clear," Barkin said. "If you don't get inflation under control, it comes back even stronger, which requires you to do even more, which costs even more."
During the event, audience members shared their perspectives on what is happening in Talbot County and within their respective industries and included members of Talbot County's Economic Development Commission, Easton Economic Development Corporation, Talbot County Chamber of Commerce, bankers, and other business and community leaders.
"Tom brings an important perspective and incredible value to Talbot County and its leaders," said Talbot County Department of Economic Development and Tourism Director Cassandra Vanhooser. "We have ensured that our collective voices are heard at the federal level to help drive many of the policies needed to help strengthen our economic vitality here, and across the nation."
The Federal Reserve Bank of Richmond represents Maryland, Virginia, West Virginia, North Carolina, and South Caroline as one of 12 banks of the Federal Reserve System. The Federal Reserve System serves as the central bank of the United States charged with promoting the stability of the financial system and creating policies that maximize employment, moderate long-term interest rates, and keep prices stable, among other priorities.
"Promoting community development is one of the Fed's five general functions," said former Federal Reserve System Board of Directors member and Mid-Shore Community Foundation President W. W. "Buck" Duncan. "Connecting with local business leaders in this way is essential in establishing a deeper understanding of the emerging community economic development activities that are working."
The Talbot County Department of Economic Development and Tourism's mission is to enhance and promote a business-friendly environment for current and prospective enterprises and to advocate for policies that support and strengthen the economic vitality of Talbot County. The department's vision for Talbot County is built on the principles of strong communities, empowered businesses, and innovative solutions.
Business owners and managers are encouraged to receive the department's Talbot Works newsletter and breaking business news by subscribing at www.talbotworks.org. The department can also be reached at 410-770-8058 or by visiting their office at 215 Bay St., Ste. 5, Easton, Md.
---
Never Miss Talbot County Business News: Subscribe to Talbot County Economic Development and Tourism's Talbot Works newsletter here.