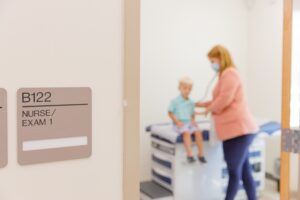 Healthy students learn more and get better grades. It's just that simple. Now, thanks to Choptank Community Health, children in some Talbot County Public Schools can receive basic healthcare services without even leaving the building.
The healthcare providers from Choptank Community Health work side-by-side with school nurses, administrators, and partners including the Talbot County Health Department, Shore Regional Health, and LabCorp to provide affordable healthcare, information, and other services to children and their families.
School-based health clinics at Easton Elementary, Easton Middle School, Easton High School, and the St. Michaels school campus serve hundreds of children each year and are funded through private insurance, Medicare, and Medicaid. A sliding fee schedule is available for children without health insurance.
"This program is really good for working parents," says Kim Fitzgerald, a nurse practitioner at Easton Elementary School. "I can administer and prescribe medications, administer tests, and prevent problems from becoming serious without requiring parents to take off from work."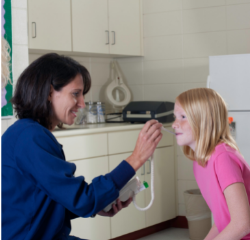 Communication between providers and parents is key, Fitzgerald says. Parents are required to sign up to allow their child to receive treatment. The school-based healthcare providers then are able to communicate with students' primary healthcare providers to ensure seamless care. Not only be offered for acute conditions such as sprains and stomach bugs, they can work with students to manage long-term health conditions. One example is asthma, a common illness among children which is sometimes attributed to seasonal allergies. Recognizing and treating asthma early can prevent serious problems down the road.
"My job involves a lot of teaching, which is critical to prevention," explains Fitzgerald. Choptank also offers behavioral services for students, a need that has increased dramatically during the pandemic. Behavioral issues can be uncovered and addressed more easily because of the access between the school-based providers and teachers and other support staff.
During the pandemic, Fitzgerald and staff saw a lot of patients curbside, treating children while in their cars and educating parents on how to care for their children while they were home learning virtually.
Choptank Community Health operates in Talbot, Caroline, and Dorchester counties, and will be expanding to Kent County in the summer of 2022. It provides medical, dental, and behavioral health services at various locations through community as well as school-based clinics.
Choptank has interpreters for non-English speaking patients, and works with other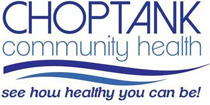 nonprofit organizations such as the Multicultural Service Center in Easton to reach as many patients as possible. Public school employees are also eligible to use the school-based health services. Treating employees where they work means they do not need to take time off to seek treatment.
"Our mission is to provide access to quality healthcare for all," says Lucie Hughes, director of communications for Choptank Community Health. 'School-based Health Clinics are an important tool to accomplish the mission."
For additional information about Choptank Health or its school-based health centers, please contact Lucie Hughes at lhughes@choptankhealth.org.