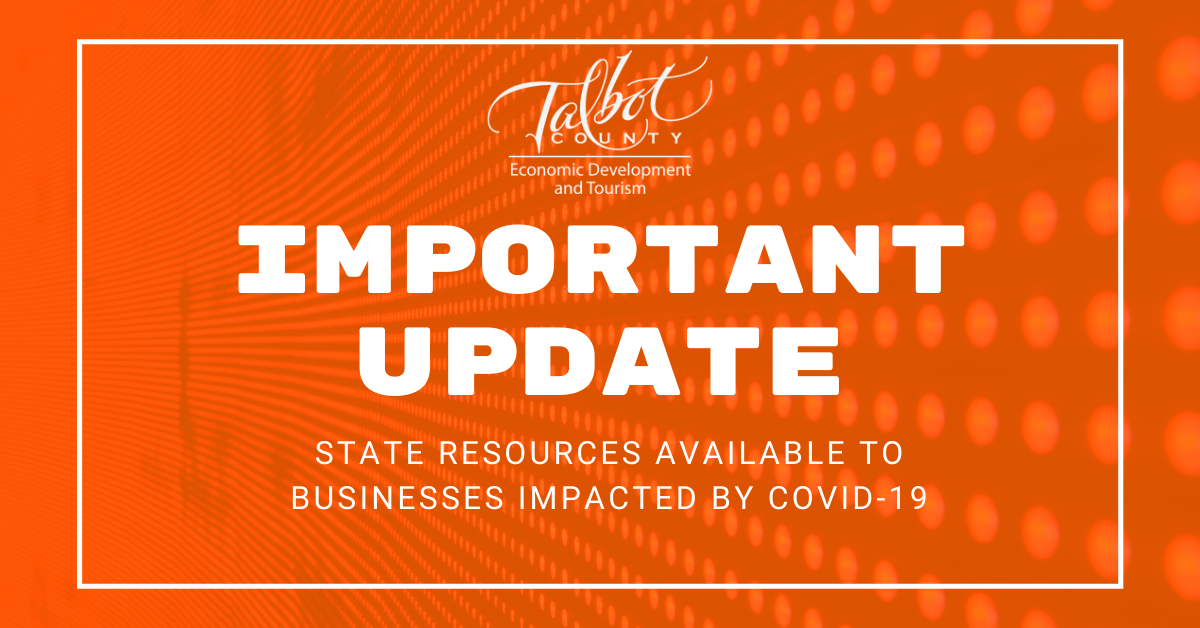 What Talbot County is Doing
Talbot County Emergency Services announced today that it has developed a new website —www.talbotcovid19.org —that will be a central location for community information during the COVID-19 health emergency.
"We continue to utilize our emergency management system to drive a high level of coordination to achieve two important goals," says Clay Stamp, Director of Emergency Services for Talbot County. "These goals include establishing and maintaining a common operating picture for those working on solving issues in a rapidly changing environment and ensuring we gather and distribute timely and valuable information."
The website links to federal, state, and local information about the coronavirus and Talbot County's response. The Talbot County Health Department is the primary source for local health advisories, along with the Maryland Department of Health and the Centers for Disease Control and Prevention.
Resources Available for Businesses
Several Maryland agencies have partnered to launch a new webpage dedicated to resources businesses can leverage during the State of Emergency Maryland is currently operating under during the Coronavirus COVID-19 outbreak.
Partnering agencies include the Maryland Department of Commerce, Department of Labor, and Department of Assessments and Taxation.
The webpage, available on the Maryland Business Express portal, features several resources available for businesses throughout the state, including guidelines for employers, fair labor standards, information on insurance claims, opportunities for financial assistance, tax questions, and more.
To find resources or learn more about how to keep yourself, your families, and your workers safe, please review our previous post: Talbot County COVID-19 Update.
As we work to keep Talbot County businesses updated and informed, please do not hesitate to reach out to the Talbot County Department of Economic Development and Tourism–we are here to assist you. Call us at 410-770-8058 or email Cassandra Vanhooser, director, at cvanhooser@talbotcountymd.gov.
We want to hear from you
As employees and businesses are being impacted by the COVID-19 outbreak, a local economic development stakeholders group is working together to document the economic impact of the coronavirus outbreak and measure the effect it has had on the business community. Furthermore we want to highlight what your business or organization is doing to provide relief. Is your business waiving late fees? Has your organization shifted its business model to accommodate teleworking? Is your business continuing to pay employees despite the office being closed? What innovative strategies has your business adopted to continue to serve customers, clients, and the community?
Please fill out and submit the survey here
About Talbot County Department of Economic Development and Tourism
The Office of Economic Development and the Office of Tourism were merged in 2016 by the Talbot County County Council to fully leverage the synergy and common interest of the two offices. The mission of the Department of Economic Development and Tourism is to enhance and promote a business-friendly environment for current and prospective enterprises and to advocate for policies that support and strengthen the economic vitality of Talbot County. The vision the department sees for Talbot County is simple: Strong Communities. Empowered Businesses. Innovative Solutions.
If you own or operate a business here in Talbot County, or want to start one, you are encouraged to contact the Department of  Economic Development and Tourism at 410-770-8058 or visit their office at 215 Bay Street, Suite 5, Easton, MD.