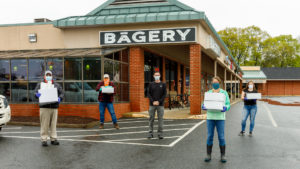 Talbot County Economic Development and Tourism is partnering with St. Michaels restaurateur Chris Agharabi and others in the restaurant industry to help feed frontline workers during the COVID-19 public health crisis.
The benefits of the program are three-fold. The program pays restaurants to provide delicious, healthy meals to essential employees in medical facilities, emergency services, and law enforcement. Donors who are looking for a good cause are able to both support both restaurants and frontline employees.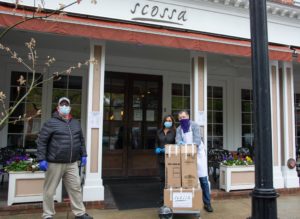 On Friday, April 24, local restaurants teamed up to feed 483 of the county's frontline workers.. The Avalon staff, led by Artistic Director Suzy Moore, braved the rain to deliver food prepared by The Bagery, Rusticana Pizza, Tilghman Island Country Store, Scossa Restaurant and Lounge, and The Inn at Perry Cabin to feed essential workers at the University of Maryland Shore Medical Center at Easton, the Health Department's Environmental Health group, Easton Dermatology, and Talbot County Public Schools including the CarePack volunteers.
"Our hearts (and our tummies) are full," said nurse Jessica Alvarez. "The generosity is so appreciated by all of our team members."
Click for more information on how to participate in Feed the Front – Maryland Eastern Shore.