Small business owners and entrepreneurs are invited to attend the Talbot County Minority Business Resource Fair on Saturday, October 14 from 4-7 p.m. at the Waterfowl Festival Building in downtown Easton. The event is free, including childcare provided for participants.
Participants will gain important knowledge and resources to help facilitate business start-ups and expansion. In addition to local resource partners, representatives from the Governor's Office on Small, Minority & Women Business Affairs will be attending the event and available to answer participant questions.
Luis Diaz-Colorado, a bilingual business consultant at the Small Business Development Center, will be the main speaker, presenting in both English and Spanish. Interpreters will also be available for participants at each resource partner's table.
Diaz-Colorado holds a degree in International Business from The George Washington University and earned a Master's in Business Administration from The American University. He brings invaluable knowledge and insights to his audiences, with a solid background spanning more than 20 years in the banking and hospitality industries.
The Talbot County Minority Business Resource Fair is presented by the Talbot County Department of Economic Development and Tourism, Uniting for Entrepreneurship in Maryland, and the Chesapeake Multicultural Resource Center.
Resource partners include the Small Business Development Center, Maryland Department of Housing, Maryland Capital Enterprises, and local banks.
"Being connected to resources helps businesses succeed, and we're here to be the conduit for building these connections with local business owners and leaders," said Talbot County Economic Development and Tourism Director Cassandra Vanhooser. "Participants will come away from this event knowing more about the programs and resources available to start and grow a business in Talbot County, including financing options for small businesses."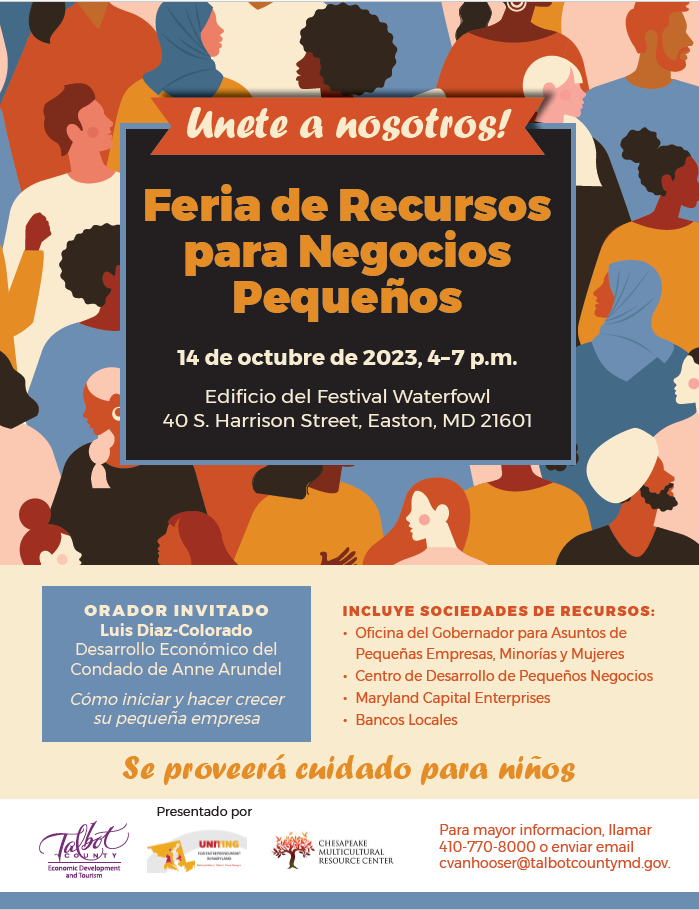 The Chesapeake Multicultural Resource Center is helping host the event with the hope that minority business owners and aspiring entrepreneurs will feel welcome to attend and access the information.
"We're grateful for the opportunity to host this event with our partners," said Chesapeake Multicultural Resource Center Executive Director Matthew Peters. "Together we are providing business resources that are accessible to any individuals who want to start a business in Talbot County, including the Latino community."
The Talbot County Department of Economic Development and Tourism's mission is to enhance and promote a business-friendly environment for current and prospective enterprises and to advocate for policies that support and strengthen the economic vitality of Talbot County. The department's vision for Talbot County is built on the principles of strong communities, empowered businesses, and innovative solutions.
Business owners and managers are encouraged to receive the department's Talbot Works newsletter and breaking business news by subscribing at www.talbotworks.org. The department can also be reached at 410-770-8058 or by visiting their office at 215 Bay Street, Suite 5, Easton, Md.