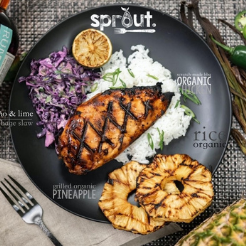 Local Restaurant Company Wins Bid to Prepare Food for Meals on Wheels
The Talbot County Meals on Wheels program is a bright spot for seniors who are homebound, and a new initiative is getting rave reviews from recipients.
Sprout of Easton and St. Michaels was selected to participate in the Maryland Senior Nutrition Restaurant Initiative, a program designed to engage local restaurants hit hardest during the pandemic. Sprout bid on and won the contract to prepare meals for Meals on Wheels recipients each Thursday over the next 12 months.
"Our chef is super excited about preparing meals for people who wouldn't normally have access to our food," says Ryan Groll, who owns Eat Sprout, LLC, with his wife Emily. "We've gotten a ton of positive feedback."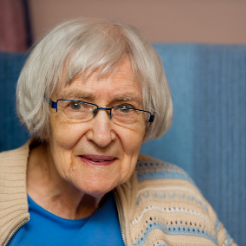 A Service to Seniors
Meals on Wheels is a national nonprofit that provides nutritional home-delivered meals at a nominal cost to seniors who are physically disabled or who are experiencing financial hardships. In Talbot County, the program is administered by Upper Shore Aging, Inc., with meals distributed through Brookletts Place – The Talbot County Senior Center in Easton.
More than 125 homebound seniors and disabled individuals in Talbot County receive Meals on Wheels four days a week. Sprout joins Delmarva Community Services, Inc., which provides meals Mondays,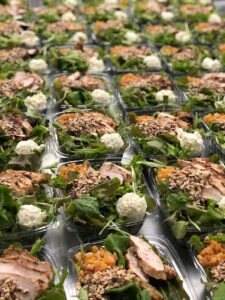 Wednesdays, and Fridays.
Meals are prepared and packaged at cost and delivered by a corps of dedicated volunteers covering eight different routes.
"This is right in our wheelhouse," explains Groll. "We already prepare fresh, pre-packaged, ready-to-eat meals. It's also great for us because it provides our chef stability during a challenging time."
Nutritious and Delicious
Program participants are raving about the new meal choices provided by Sprout. Even the "Sprout green" containers have been a big hit.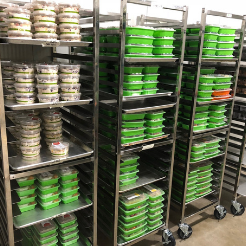 "All the feedback we've received has been very positive," says Talbot County Meals on Wheels Community Coordinator Cheryl Knopf. "They love the food because it's a change of pace from what we normally serve, and the recipients get a big kick out of the colorful containers."
Meals on Wheels has become even more essential during the COVID-19 pandemic as more seniors are sheltering at home.
A survey conducted by Meals on Wheels America revealed that programs are now serving an average of 47 percent more seniors than they were March 1, when concerns about COVID-19 emerged and social distancing measures began.
To sign-up for meal delivery or to volunteer, call Brookletts Place – The Talbot County Senior Center at 410-822-2869.