The Talbot County Department of Economic Development and Tourism is encouraging business leaders to familiarize themselves with the power of Talbot County's Interactive Land Use Maps, now available and searchable online.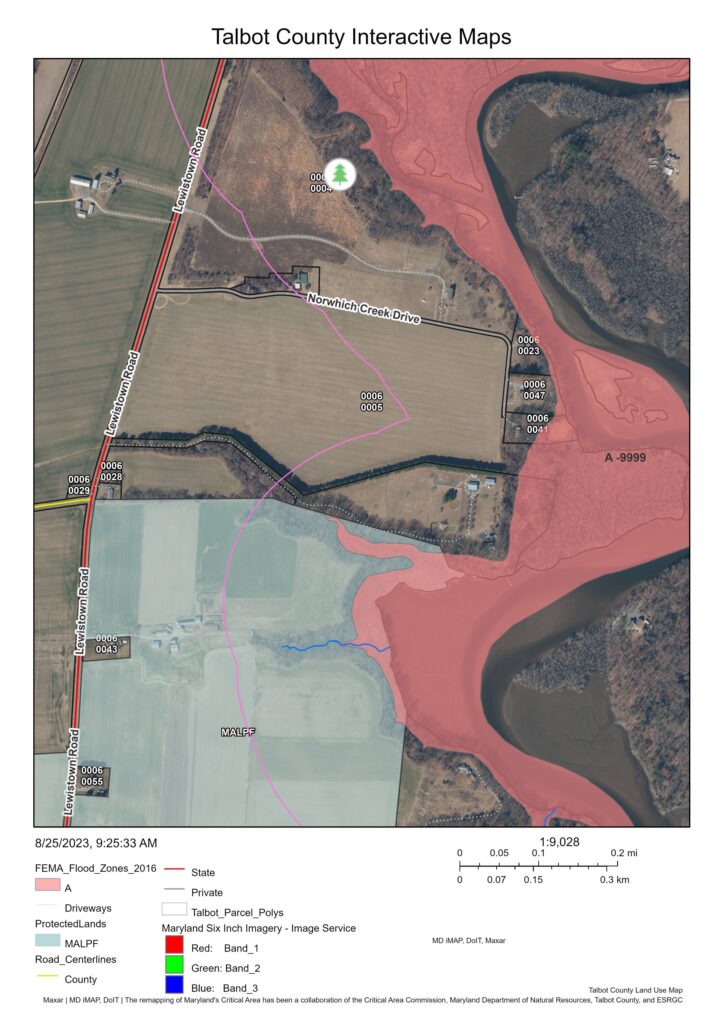 The maps are maintained by the Talbot County Department of Planning and Zoning and used as an easy way for real estate professionals, mortgage brokers, surveyors, appraisers, engineers, contractors, and other business leaders to search for information related to a specific property or the county at large.
The application includes the most recent high-resolution satellite imagery of Talbot County, with layers of information related to Maryland State Department of Assessments and Taxation (SDAT) data. Layer categories include zoning, wetlands, agricultural and historic easements, critical areas, protected lands, soils, flood zone information, and many other kinds of geographic information. Once a property is identified, the layers of data can be turned on and off in a specific order to identify a land use policy issue relevant to federal, state, and local laws.
Mark Cohoon, Talbot County's GIS manager, developed the original mapping system and integrated it into the county's website in 2008, with the Flood Risk Map added around 10 years ago when the county entered FEMA's Community Rating System (CRS) program. During recent updates, Talbot County Department of Planning and Zoning Assistant Director Calvert "Bryce" Yelton assumed responsibility for updating and maintaining the interactive maps.
Cohoon and Yelton are also in the process of rebuilding Talbot County's Flood Risk map which they anticipate being back online soon. "This map or at least a similar version of this map has been around for about 15 years," says Cohoon. "First, it was used only internally by the county staff, then fine-tuned to be released to the public."
The maps provide the geographic context to assist county staff, property owners, and other interested parties in making data-driven decisions, including identifying issues that might need further investigation or resolution.
"Our office frequently fields calls from businesses looking to open within the unincorporated area of Talbot County," says Yelton. "The map can guide informed decision-making and typically begins a great dialog between the entrepreneur and our office on how to get started through our process."
Yelton says being informed and having the best available data leads to collaborative exchanges because the map that is available to the public is the same map Talbot County Department of Planning and Zoning utilizes to make planning-related decisions.
"This tool helps us develop a transparent forum for public and civic engagement in the planning process," Yelton says. "We hope this can lead to a better understanding of our office's goals and the comprehensive plan for Talbot County."
Talbot County's Interactive Land Use maps can be found at bit.ly/talbotgis.
Businesses with questions about planning-related topics or that are looking for more information about these land use maps can contact Talbot County Department of Planning and Zoning at 410-770-8030, with its customer service counter at 215 Bay Street open Monday through Friday from 8:00 a.m. to 4:30 p.m.
The Talbot County Department of Economic Development and Tourism's mission is to enhance and promote a business-friendly environment for current and prospective enterprises and to advocate for policies that support and strengthen the economic vitality of Talbot County. The department's vision for Talbot County is built on the principles of strong communities, empowered businesses, and innovative solutions.
Business owners and managers are encouraged to receive the department's Talbot Works newsletter and breaking business news by subscribing at www.talbotworks.org. The department can also be reached at 410-770-8058 or by visiting their office at 215 Bay St., Ste. 5, Easton, Md.
---
Never Miss Talbot County Business News: Subscribe to Talbot County Economic Development and Tourism's Talbot Works newsletter here.