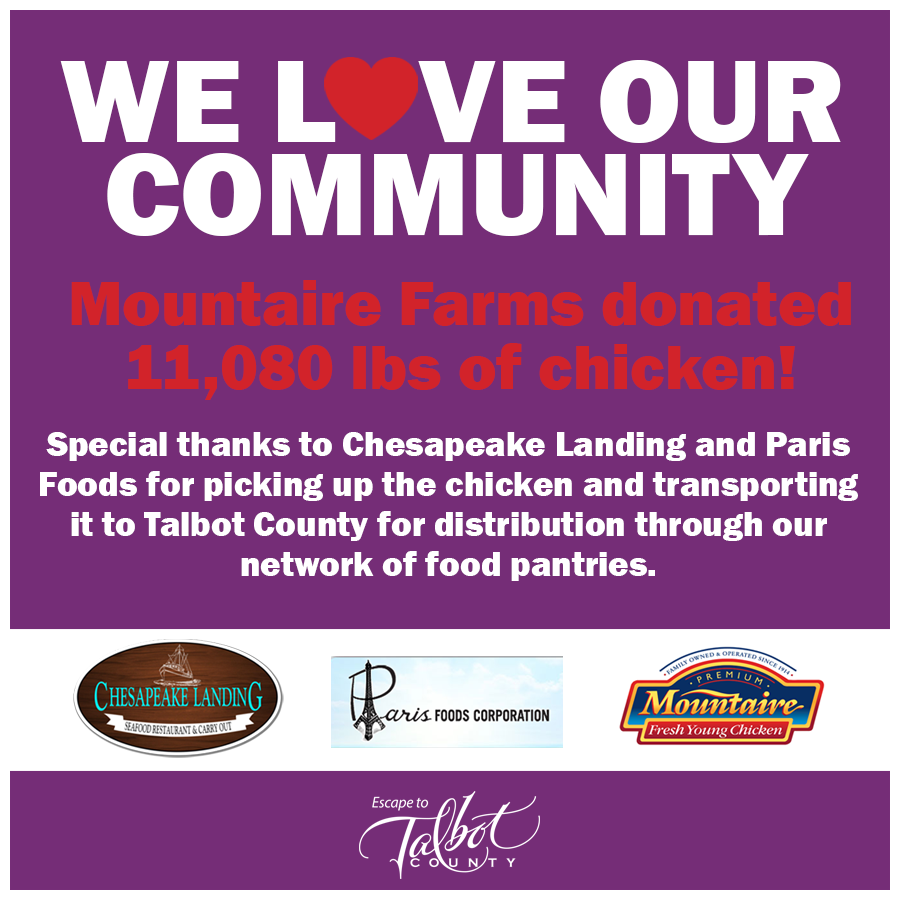 From offering free meals to seniors and restaurant workers to donating personal protective equipment to frontline medical workers, the Talbot County business community has risen to help the community during the COVID-19 crisis, even when many businesses are suffering.
Supplies of hand sanitizer dwindled early in the crisis and Windon Distilling and Gray Wolf Craft Distilling, co-located businesses in St. Michaels, pivoted operations to produce the product for healthcare institutions, first responders, and other organizations.
Aphena Pharma Solutions, Blue Heron Catering, Harris Crab House, The Bagery, and others have donated medical grade equipment to University of Maryland Shore Medical Center at Easton and surrounding communities.
Mountaire Farms donated 11,000 pounds of chicken that was delivered to Talbot County food pantries by Talbot County's own Chesapeake Landing and Paris Foods. Dogwood Farms in Sherwood donated fresh eggs for the New St. Johns United Methodist Church food distribution and customers of Nice Farms Creamery in Federalsburg have donated 1,200 gallons of milk to Talbot County food pantries.
Chef Jordan Lloyd of Wylder Hotel launched an effort to feed hospitality workers who have been hit hard by the crisis.   He prepares a weekly take-out meal that he calls Family Meal for Talbot County, named for the meal restaurant workers typically share before their work shift begins. .   Donations from individuals and businesses including Cottingham Farms, Tilghman Island Baking Company, and Nice Farms Creamery help pay for the program.
Restaurateur Chris Agharabi took another tack. His brainchild, Feed the Front-Maryland Eastern Shore provides meals for Covid-19 Frontline Workers while at the same time providing much needed business to local restaurants in Talbot and Dorchester counties. Tax-deductible donations can be made through the website feedthefront-mes.org and are managed by the Mid-Shore Community Foundation (MSCF.
On Saturday, April 11, the Neighborhood Service Center partnered with The Milestone Event Center in Easton to give away Easter baskets to 400 children in their first drive-thru Easter Basket Giveaway. Staff from the Talbot County Free Library also distributed age-appropriate books.
"It is wonderful to see our business community come together during this trying time," said Talbot County Council President, Cory Pack. "Talbot County is a dedicated and caring community."